Percie: My Guardian Angel – By Claire Nakazawa
Percie: My Guardian Angel
Percie is most often referred to as my "guardian angel."
It's not hard to imagine a halo on top of her head, as Percie most closely imitates a walking cloud of gentle, angelic golden fluff. But behind this cute nickname and her goofy, often drool-covered smile, Percie holds a much deeper meaning for me. To understand that, I have to travel back in time.
I have always been a dog person. This love for dogs runs in my blood: my parents met because of my mother's Golden Retriever at the time (which is another story in itself). It was only a matter of time before I caught the so-called "dog bug." When I was four-years old, I convinced my parents to get our pet Golden Retriever, Cody, and then received a dog of my very own when I was ten-years old. Her name was Ashlie, a feisty Jack Russell Chihuahua mix, and she further introduced me to the inexplicable power of the dog.
When I first began to experience things such as panic attacks and depressive episodes, Ashlie became my comfort.
a friendly face lick, a gentle cuddle, a walking partner – she provided the love and kindness that I needed to keep me warm during such distressing and difficult times. As I became older, however, these illnesses grew much more severe. The laundry list of diagnoses is unimportant here; what is crucial to understand is that the labyrinth of mental illness, so often misunderstood and stigmatized, had taken a toll on me.
"Wherever I go next in life, Percie will follow."
Medication, hospitals, doctors, and therapy can help a great deal of the time, and are certainly imperative to one's wellness when facing mental illness, but they can only do so much. As time went on, my illnesses posed greater and greater challenges for me. My independence dwindled, and so did my hope.
Now imagine my surprise when I discovered there was such a thing as psychiatric service dogs. I learned about this type of service dog a little bit after my discharge from an emergency hospitalization in which one of the uglier, more stigmatized sides of my illness reared its head. I quickly became hooked on the idea: a dog who could not only grant me companionship, but who could perform real life tasks to aid me in everyday life. I researched, made phone calls, and researched some more. While it took some convincing from me, my wonderful parents and my doctors eventually took to this idea, this crazy and fantastical idea that a dog could grant me what medication, hospitals, and therapy could not adequately provide.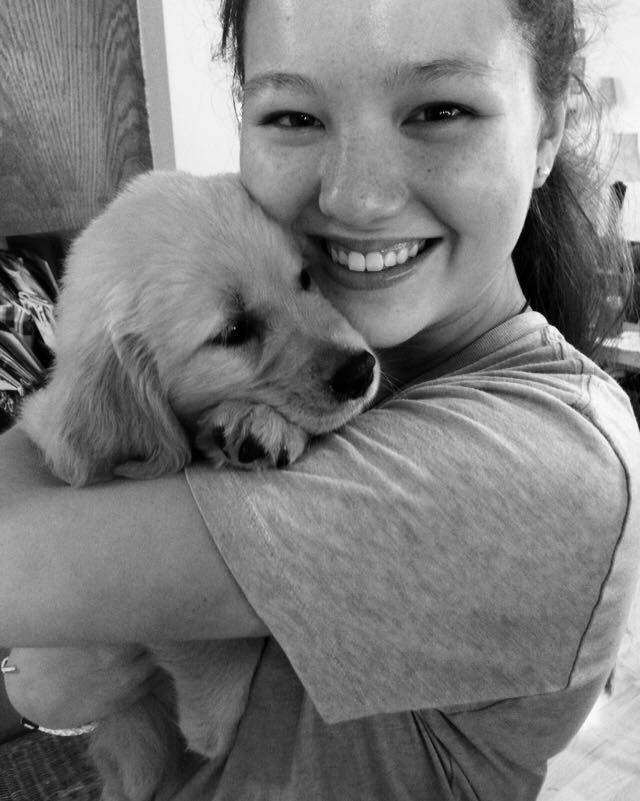 So, the search for my savior puppy began. Why not Ashlie, you may ask? In my research, I had discovered that there were some key qualities that service dogs needed to have: the importance of a stable temperament, a desire to learn and perform for the handler, a strong bill of health and capability. Ashlie had many of these things, but she also had terrible fears. I narrowed my choice of breed down to a Golden Retriever, who I learned are often used for service work because of their trainability and loyalty. They are also, coincidentally, my heart breed – the type of dog that will always tug at my heart strings.
After more research, I opted for a breeder out of state, only a few hours away. A few weeks after the puppies were born, two wonderful people from a local dog training organization came to "temperament test" the puppies – a process in which the puppies go through various trials and their responses are marked, which can help determine a suitable service dog candidate. I hadn't told anybody, but one puppy in the litter who wore a little orange collar – I called her Sweet Girl – was my favorite. When she passed the test with flying colors, I knew she was meant to be mine. I later named her Percie, a nod to my mother's dog, Percy, who was the reason why my parents first met, and as a nickname for Persephone, the Greek goddess who travels to hell and back. Percie was meant to make that trek with me, and, as I would later discover, bring me back from that hellish place each time.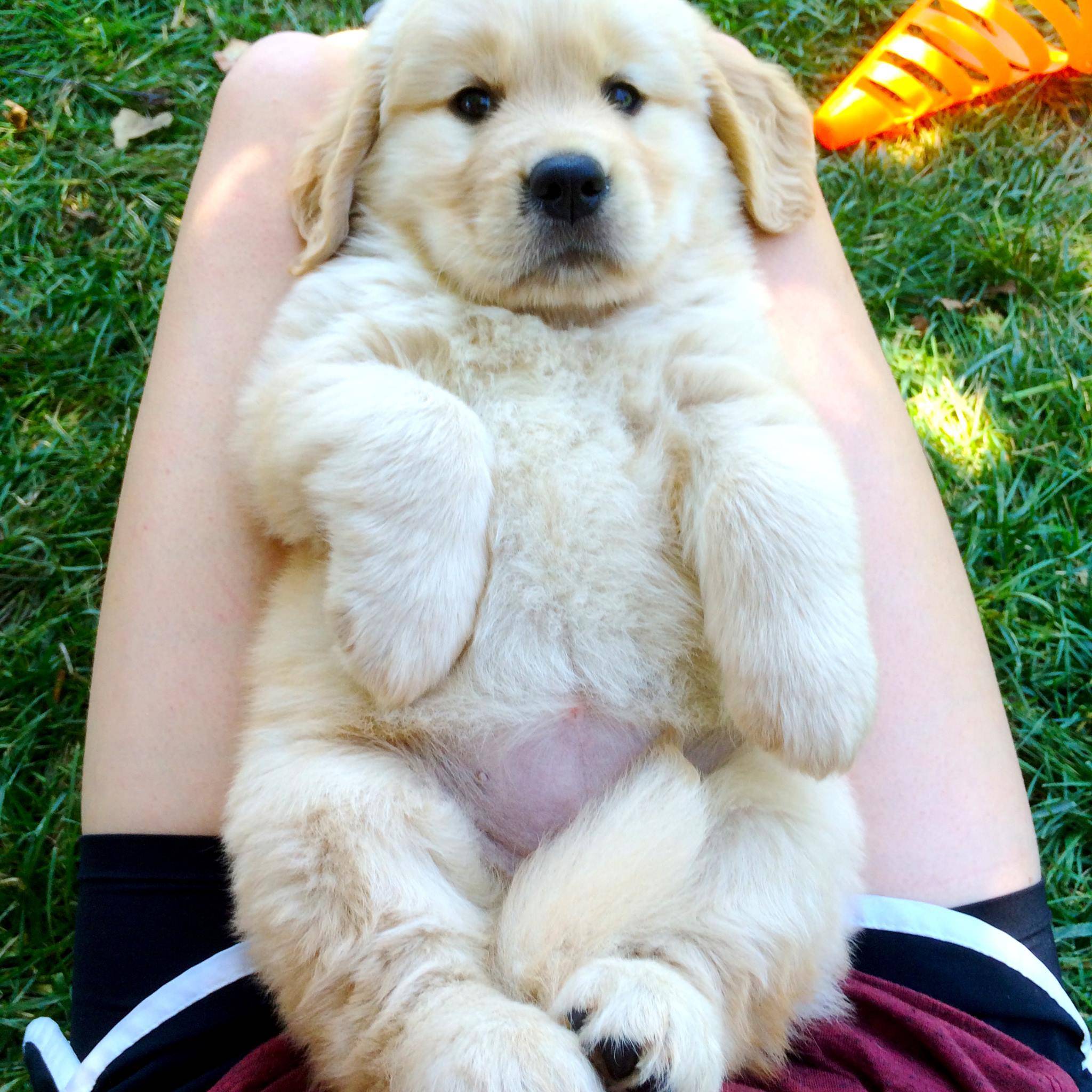 The first few months with Percie were rocky. Training a service dog, especially one's own, is difficult. It takes an extraordinary amount of patience, dedication, and it can, at times be terribly frustrating. It's nerve-wracking, because sometimes the dog doesn't have the right temperament, health, or behavior, and won't be able to finish their training. But over time, with the help of the professionals who mentored me and were at my side, and Percie's forgiving nature, we became a team. I learned the best ways to teach her, the things that she loves to work for (ear rubs and hot dogs), her favorite places for scratches. The more we trained together, the more we bonded, and the more we bonded, the better we worked together as a team. During this same time, Ashlie passed away from a rapidly progressing cancer that was inoperable. I'd like to think she was waiting for Percie to step in, waiting for her to be there for me, before she allowed us to figure out that something was wrong.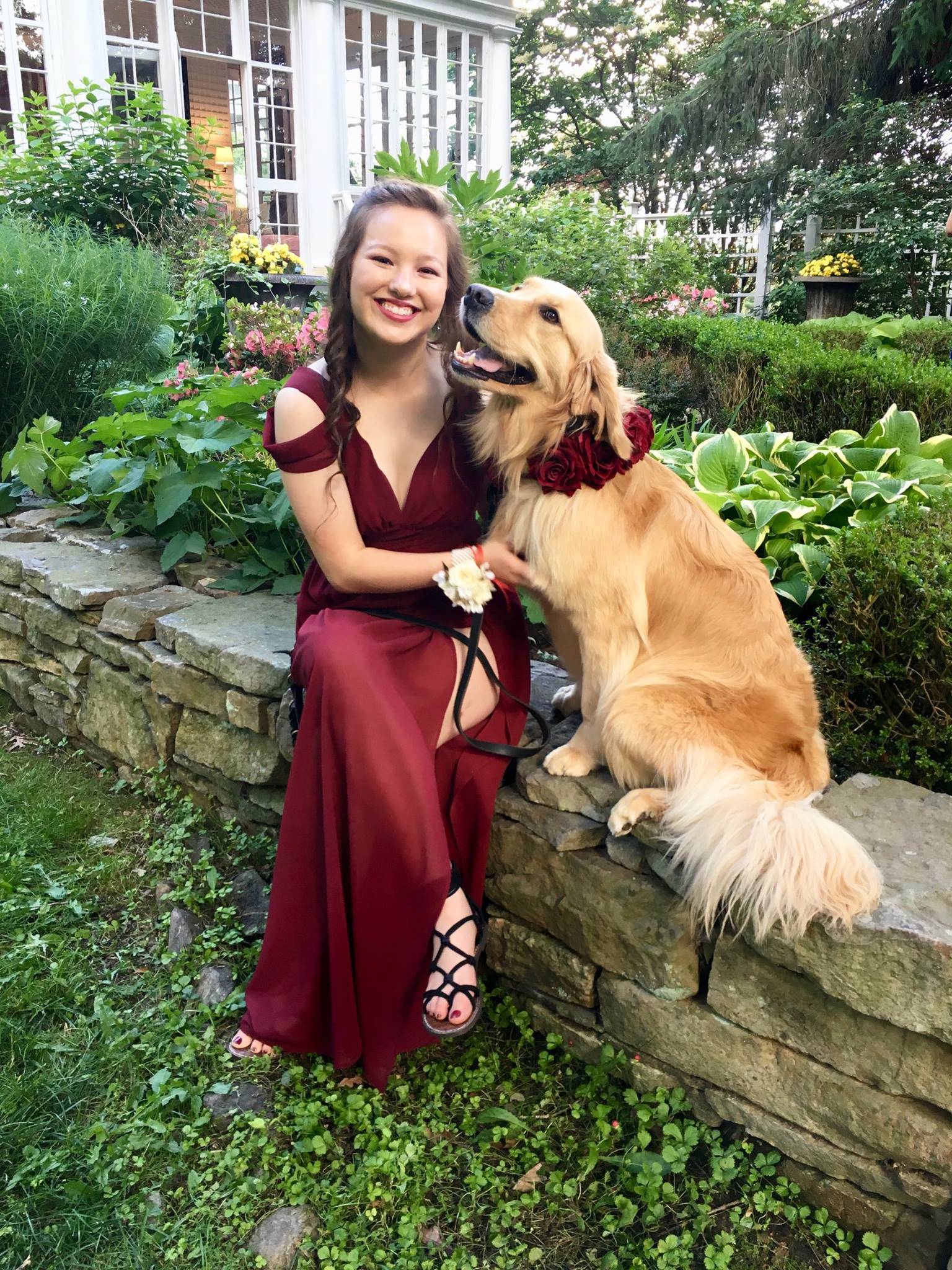 The journey that Percie and I embarked on together did not go unnoticed. The local training organization who had aided me throughout Percie's training offered me a once in a lifetime opportunity to learn from their trainers and become involved in the raising and training of service dogs for others with disabilities. Perhaps as joyous as my partnership with Percie has been, I've found equal joy in my journey as a service dog trainer. To raise puppies for larger purposes, to train them to aid their future handlers, and to ultimately watch them change the lives of their people allows me to share the happiness and independence that I have seen for myself with Percie, over and over again.
Today, Percie is capable of alerting to my panic attacks prior to when they occur, which gives me just enough time to find a safe place. She's trained to push her body weight onto my chest and legs when this happens, which can decrease the length and severity of the attack. She can interrupt anxious tics so I can focus on healthy coping mechanisms, and grounds me with her paw on cue when I'm feeling symptomatic. She's even learned to aid with my chronic illnesses, which often leave me dizzy and fatigued, by picking up items or propelling me forward using a special harness. These tasks that she performs so effortlessly enable me to go out on my own, and I have become more social, more confident, and more independent.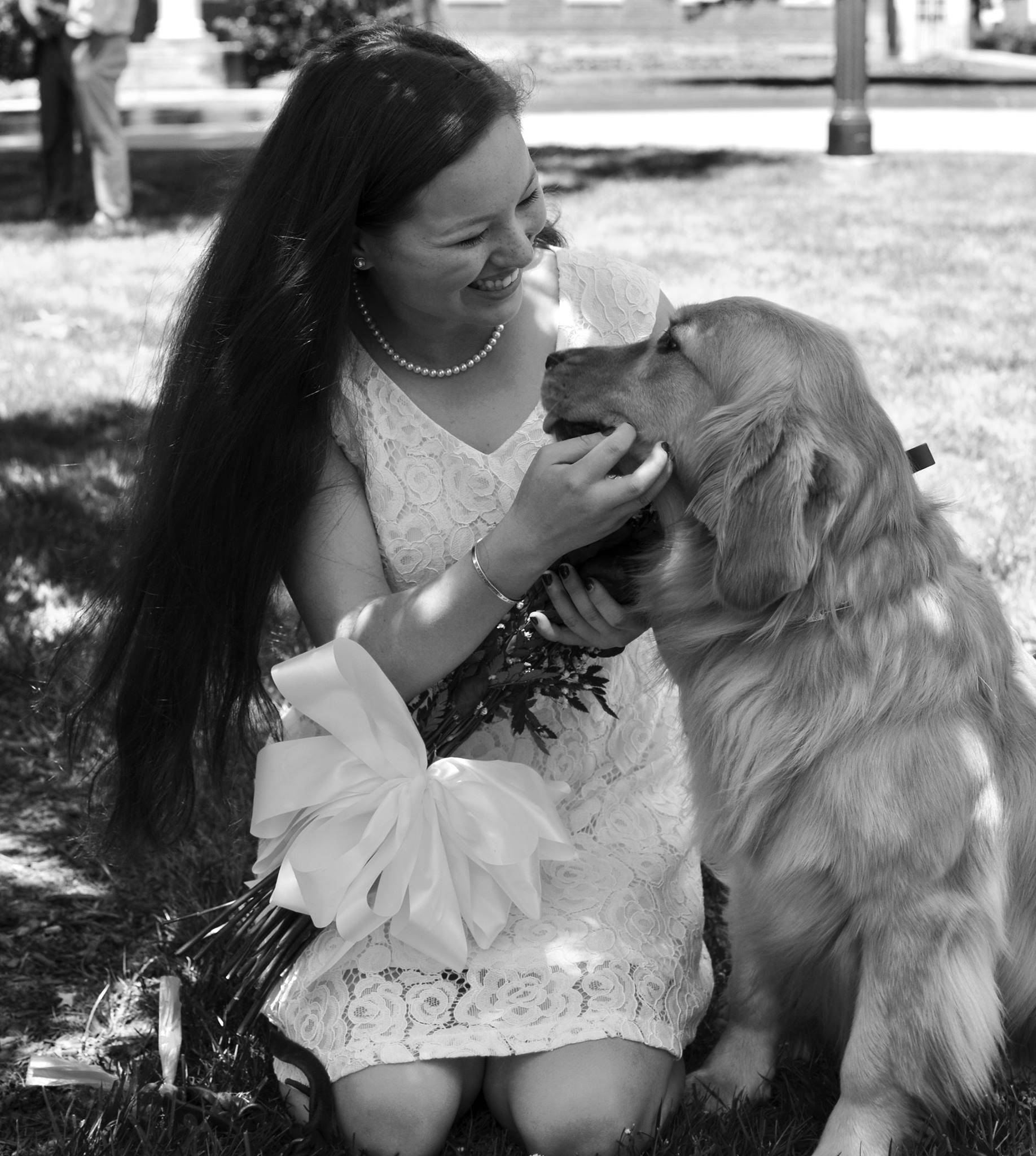 Thanks to Percie, I have been able to go on to college. I've been able to live independently on my college campus because of her. I graduated from high school, even went to my prom, because of her, and I know that one day, the two of us will cross the stage together where I will receive my college diploma. Wherever I go next in life, Percie will follow. She will catch me when I fall, and guide me when I'm weary. In the same manner, I will always care for her. Spoiling her rotten every chance I get, and giving her all the chin scratches, boiled chicken, and lake swimming her heart desires.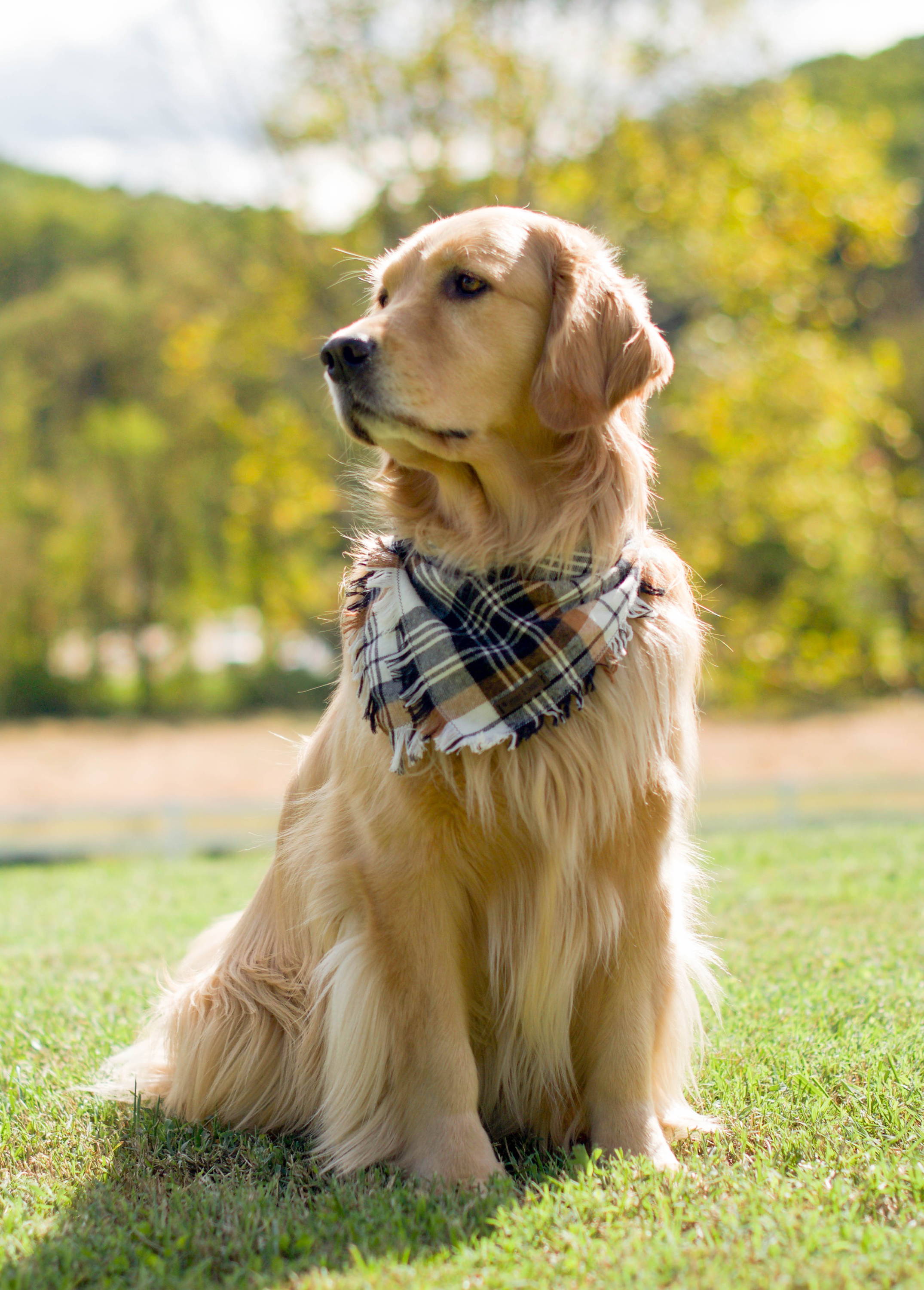 Indeed, Percie is most often referred to as my "guardian angel." My fight with mental illness will never be completely over; I will always have to take medication and go to therapy. But what I battle against is made infinitely easier to deal with because of Percie. She has truly been the guiding light in my life, my beacon of hope, my sweet sweet girl, my angel. I am eternally indebted to her.
Feel free to check out @service.angel.percie on Instagram to follow along on Claire and Percie's adventures.
SUBSCRIBE TO OUR NEWSLETTER
Recieve our latest weekly releases, offers, guides and more.