Alistair, Optimism, and Elizabeth Wurtzel's Legacy
Alistair, Optimism, and Elizabeth Wurtzel's Legacy

Watching Elizabeth Wurtzel and Alistair walk through the streets of New York City is captivating.
Elizabeth with her wild blonde hair and purple cowboy boots, and Alistair with his icy-blue eyes and purple leash to match.
They are confident and sure – both were born and bred in this city. At one point a stranger walks by and greets Alistair, which makes Elizabeth laugh.
"People recognize him all the time," she says. "They only know me because they know him."
Our first interaction with Alistair actually wasn't with Elizabeth. A few days before our meeting, Elias had spotted him walking with Elizabeth's husband, James. After Elias took his photo, we received an email from Elizabeth, who had been in Rio de Janeiro at the time.
I love what you do, she wrote, so I was happy when my husband told me that you photographed Alistair today.
Elizabeth said that her husband forgot to mention it, but Alistair is actually her service dog.

I have breast cancer, and he comes with me to the hospital all the time, she said. People kind of suck. But dogs, dogs are excellent.
I wrote back to Elizabeth telling her we'd love to hear her story. She agreed to meet us that Tuesday, under the arch in Washington Square Park.
It's important to note that Elizabeth is a very well-known author, most recognized for her bestselling memoir, Prozac Nation, which was eventually made into a film starring Christina Ricci.
"Cancer has made me optimistic."
She's a bit of a New York icon, and dodging people as we walk Alistair through the park is a cool moment for me.
She is kind and humble, asking about The Dogist and where we live, even insisting we come over to her apartment for a drink one evening. The night prior she had sent me a piece she'd written about her first dog, Augusta, and I comment on how powerful her words are.
She smiles and shrugs. "It's what I do."
Elizabeth's relationship with dogs began on September 11th, 2001 – 9/11. A day that impacted the world, the country, and, most notably, New Yorkers. Elizabeth lived in the building directly next to the World Trade Center, and she was home at the time of the attack.
The roof of her building caved in when a wing from the second plane crashed into it, leaving Elizabeth in the rubble of her beloved city. She says the city of New York provided a few different PTSD services for survivors after the attack, including therapy and support groups, but it wasn't until two years later that they decided to try therapy dogs. And on September 10th, 2003, Elizabeth adopted her first dog, Augusta.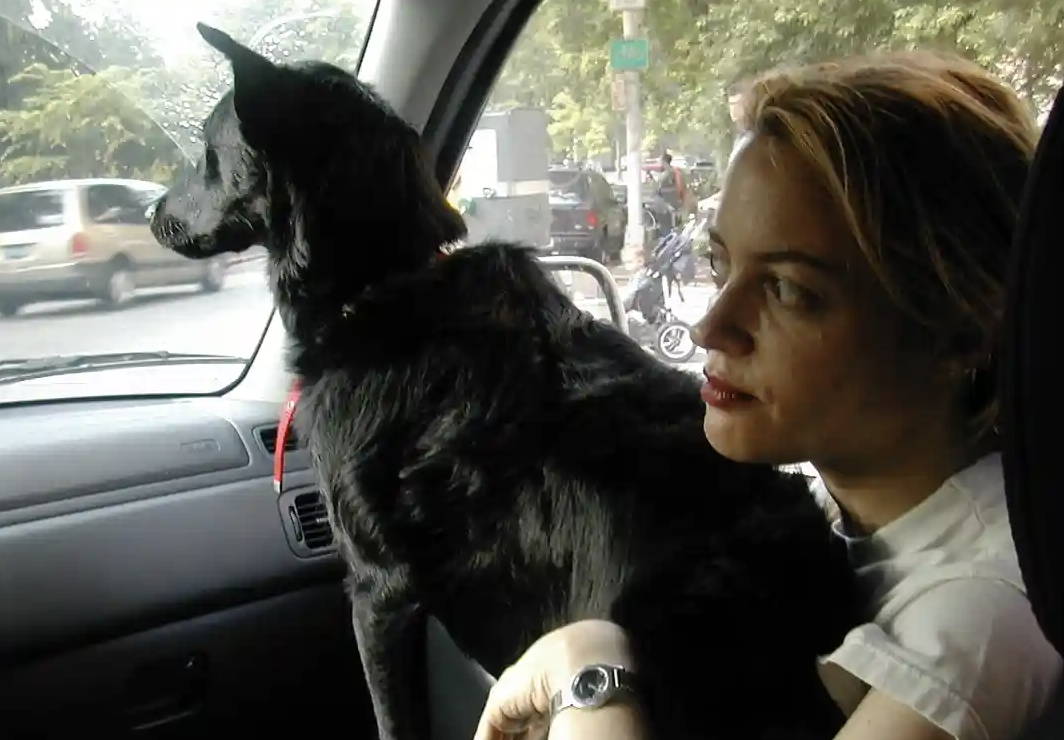 For over a decade Augusta provided Elizabeth with the kind of love she didn't even know existed. She helped her through trauma, she broke her out of her shell, she taught her about persistence and gratitude.
And, one day, after a life full of love, Augusta passed away.
When it came to getting a new dog, Elizabeth insisted she wasn't ready. But Augusta happened to pass away in the middle of yet another trying time – Elizabeth's breast cancer diagnosis.
"I was in and out of radiation, and my husband turned to me and said, 'This is so crazy – you have to do something,'" she says. "I was just sitting there missing Augusta. I had to get another dog."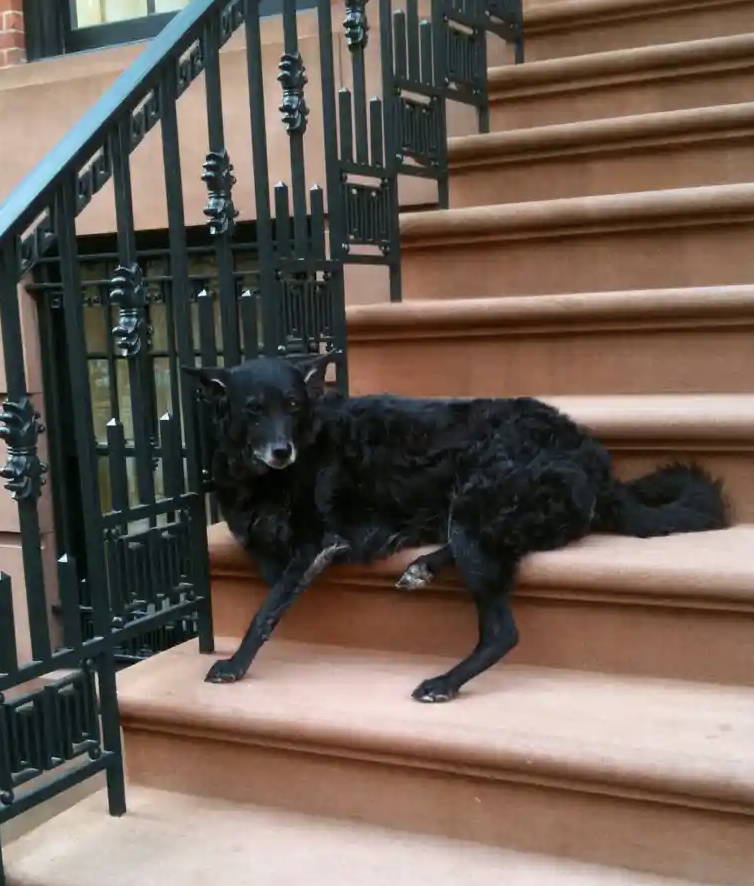 I imagine getting your second dog is much like having your second baby – you can't possibly imagine loving anything as much as you love your first. You're so sure there's no way your heart can expand to fit another being.
And yet, inexplicably, without warning, it does.
Elizabeth was shocked at how quickly she could connect with another dog. "It didn't take me long to find him," she says. "I was sitting in a Dunkin' Donuts after radiation one day, scrolling through the Animal Care Centers of NYC's website, and I just saw him. I ran over there immediately because I knew he would get adopted fast. He's just so beautiful."
And it's true – Alistair is stunning.
He looks like a Border Collie with striking blue eyes, but Elizabeth reveals that there's actually no Border Collie in him. Instead, he's an interesting cocktail of breeds – Akita, Flat-Coated Retriever, Husky, and even Pit Bull. Whatever he's mixed with, it makes for an awesome dog. He's calm yet alert, loyally attached to Elizabeth's side. Everyone who walks by stares at him. "He knows he's pretty," she laughs.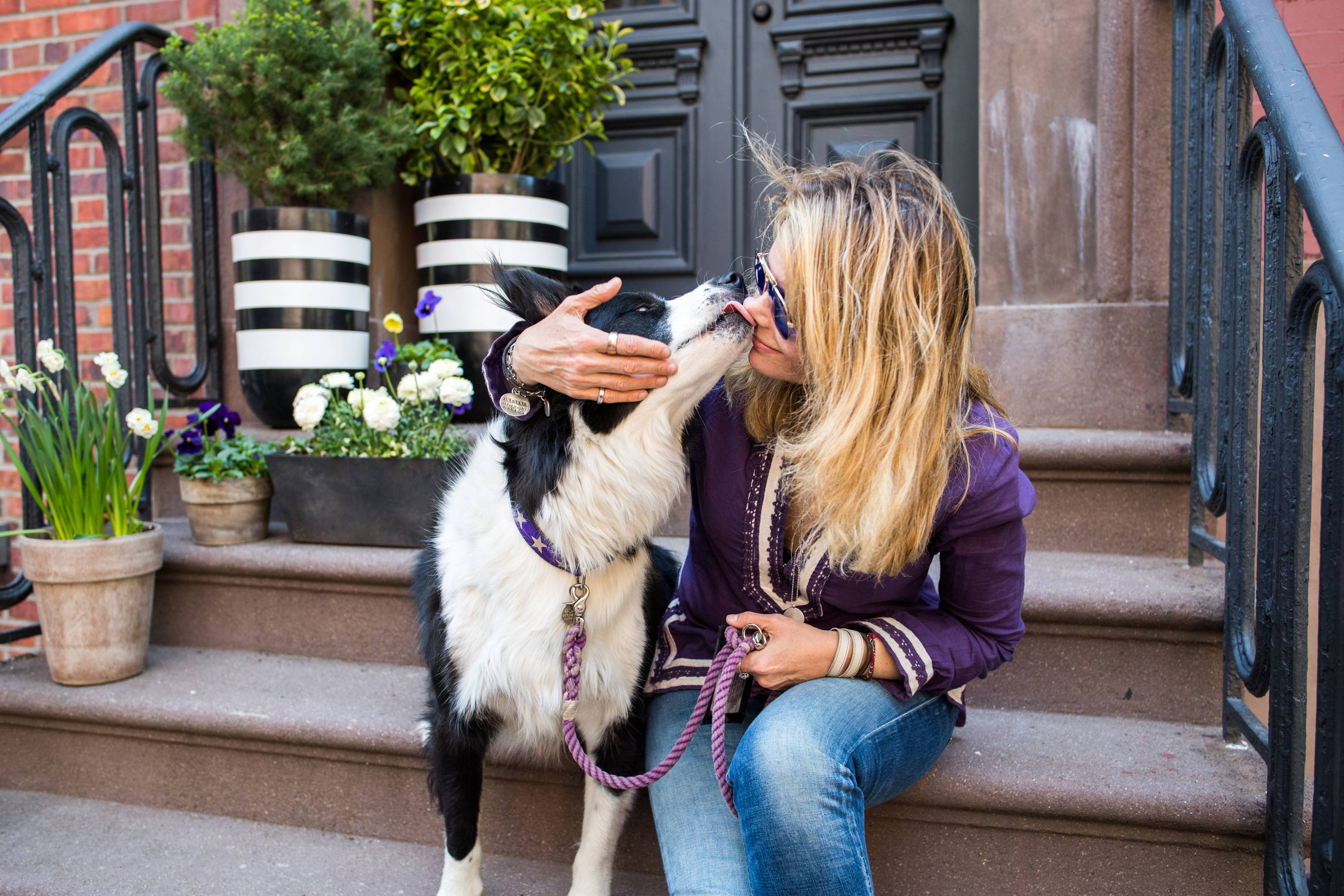 Alistair is also trained to be a PTSD service dog – the same person who trained Augusta trained him. But, as Elizabeth says, she no longer needs his medical alerts as much. Just having him as a companion is comforting enough, especially on radiation days or during doctor visits.
As we're getting ready to part ways, Elizabeth makes a statement that stops me in my tracks.
"Cancer has made me optimistic," she says.
She reads my face, and can see that I'm trying to process what she said.
"The world belongs to optimistic people," she continues. "Cancer has completely changed my perspective." She pets Alistair's head. "And having him here with me is the best thing in the world."
As we say our goodbyes, I thank Elizabeth for meeting us, and Elizabeth thanks us right back, insisting she will email us to set up a time for drinks at her apartment.
And we watch them walk, back into the bustle of New York, back into their city, her purple cowboy boots clicking as she walks away.
In loving memory of Elizabeth Wurtzel and her love of dogs, who passed away today, January 7th, 2020, after her battle with breast cancer. Elizabeth was an acclaimed author, and a pioneer of advocacy, storytelling and telling the truth always. She's survived by her dog Alistair, her husband James, and her award winning books.
SUBSCRIBE TO OUR NEWSLETTER
Recieve our latest weekly releases, offers, guides and more.